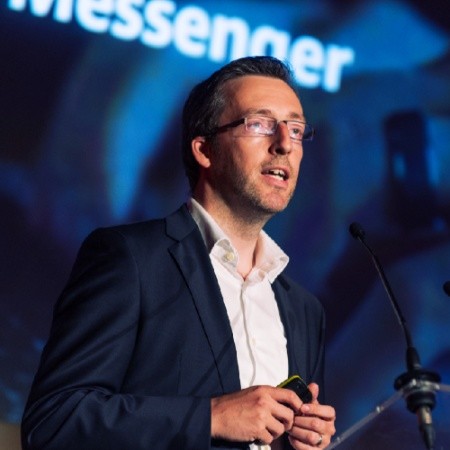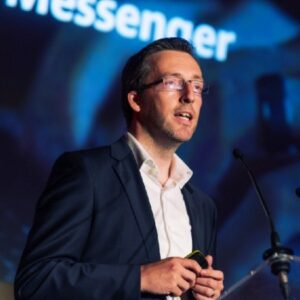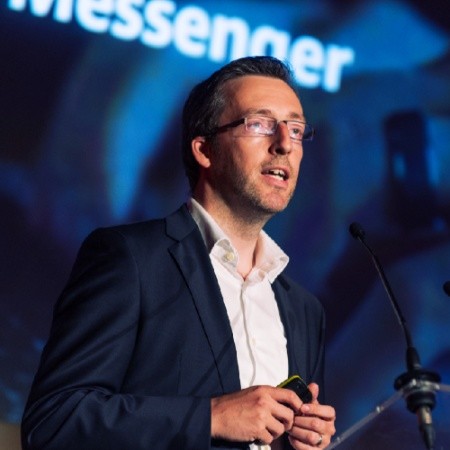 From the introduction interview done on 20/02/2022 : 
Geert Roete – CEO
Hello Geert, as a matter of introduction could you please introduce yourself?
Geert : Sure! So I'm Geert, co-founder and CEO of Sayl, and in that role I do a lot of talking with all stakeholders involved, with the team, with advisors, investors, clients, prospective customers and so on.
This builds upon my +15 years experience in financial markets where I was always enjoying my role between the business division and the development divisions. Often there was a large gap between these two divisions in terms of language – tech  talk vs business talk – and culture. Being the "pacifier" between these two divisions was something that suited me well as you have to understand both business objectives, product requirements and challenges that live at the development side, and you have to manage a lot of expectations.
While I was in the financial markets, I developed a love for SAAS products that when done right, have the potential to scale enormously.
So on the side, I developed an email marketing product that had more than 1000 business customers. A couple of years back I decided then to go full time in the SAAS world, together with co-founder Benoit. Not anymore in email marketing but in e-commerce and payments, as I believe there is much more evolution and impact to create then in a domain like email marketing.
Like every startup we had to search for a business model that worked for us, and as of 2020 we are fully concentrated on building and commercializing the Sayl platform.
Thank you. As you have already a live product, can you explain what decided you to make the move to web3 and your own token ?
Geert : Since the Sayl platform is a crossroads between "understanding my customer" and "omnichannel commerce", we have a lot of contact with businesses that are consumer-focused, B2C as we also call it.
We see in our existing client base that disintermediation is actively ongoing, and more generally, in a lot of sectors.
In some sectors it's less visible for the outside consumer, but for example restaurant businesses it is a fact.
Food aggregators like Deliveroo, Ubereats, … are a blessing and a curse for restaurants: they create new sales channels for restaurants, but the restaurant loses the connection with the consumer and loses their own brand image. The client buys from Deliveroo, not from the restaurant.
This same kind of disintermediation is also very relevant for consumer brands that we work with. The biggest sales channel for a consumer brand is the retailers. Now these large retailers are sitting in between the consumer and the brand, and they are shielding valuable consumer data from the brands.
Not all brands are as strong as Nike or Apple to be both the brand and the retailer, so there is an unmet need for brands to connect with their consumers. That's where the Sayl token comes into play.
Sure, but brands already do a lot of marketing, why would there be a need for a solution like Sayl?
Geert: Brands do marketing campaigns and activities literally since the day the word marketing has been invented, so indeed, it's a valid question.
Now, when you look to the marketing of brands that you are exposed to, it's basically boring and outdated.
Yes, a brand can make a creative publicity ad and show it on television, but on a lot of above the fold channels like television or social media apps there is no engagement, you just consume publicity.
Campaigns that are actively engaging comes down to "please fill in the survey so maybe you have the chance to win something". 
What we're saying: if you take the time to engage with a brand, you should be rewarded every single time.
For that, we are introducing the concept "Engage to Earn".  You collect tokens based on your active participation with the brands.


Engage to Earn, I never heard about that. It rings a bell though, is it like Play-to-Earn?
Geert: Indeed, play-to-earn is an incredibly strong concept that over the course of the past years has found its way into mainstream gaming and now blockchain. The prime example of Play to Earn is Axie Infinity of course.
Now we want to bring this concept of Play to Earn towards consumer engagement and with Engage to Earn we want to help consumers connect with the brands they love. You engage, you earn tokens and you enjoy the benefits of having those tokens.
Can you shortly elaborate on those benefits?
Geert: Sure, the first benefit as a token owner will be that you can exchange your tokens for collectibles that the participating brands put available to their fan base. These collectibles (NFTs) can then be used to receive perks from the brands. As a side note, the Sayl platform has built-in the capabilities to configure and operationally organize the perks they offer.
Back to the benefits, our goal is to organize with the brands experience packages, which could result in  any type of experience: a meet-and-greet, access to a VIP event, etc etc. Again, the capabilities of the Sayl platform will allow brands to put such experiences into place without the need of all kinds of middle men.
Last but not least, as a token owner you will be able to swap the tokens with the liquidity pairs that we will put available this year and next years.
Will you also offer the possibility for these brands to launch their own token?
Geert: Absolutely, this is something on our roadmap and it's a development we really look forward to. We believe that blockchain, NFT, web3 is still in its early stages and that large consumer brands will jump into this domain.
An easy first step is buying some land in a metaverse and having a presence in those metaverses, but the key to unlock a true connection with its customers will be in the utility of an own brand token.
Very clear. Could you give a word on Sayl Conn3ct, what is its relation with the Sayl token?
Geert: So to start with, Sayl Conn3ct is part of our business offering in the Sayl platform. The Sayl Conn3ct solution helps a digital manager of a brand, a sportsclub, … to manage the full NFT lifecycle. From creation of the NFT, to the distribution of it, and configuring the perks linked to that NFT.
What makes it unique is that it requires zero development for the brand, and setting up a NFT and selling or distributing it goes lightning fast!
The Sayl token is related to this: via Sayl Conn3ct brands are able to create the collectibles and define the advantages of these collectables, while when a consumer has collected Sayl tokens, they can exchange those tokens for the defined collectables, and then enjoy the perks linked to these collectables.
Wow, impressive stuff. Really looking forward to see this live !